---
These autographs were all aquired in-person at the Mystery Science Theater 3000 Conventio-Con-Expo-Fest-O-Rama 2: Electric Bugaloo autograph session, with the exception of the Bradley J. Keely autograph, which was aquired in-person in the editing bay of Best Brains Studios during a studio tour. I have incorporated clip art aquired from the Conventio-Con Operations Manual and issues of The Sattelite News, with apologies and compliments to the original creators. All of the Brains were extra super gracious, especially Mr. Keely and the Murphys.
Commentary that follows should be assumed to be mostly fictional and all in good-natured fun.
---
Trace Beaulieu
The dearly departed (to DreamWorks) Brain behind the evil Dr. Forrester and the wisecracking Crow T. Robot (the "T" is for "The"). Trace was also a writer on the show, and probably did a bunch of other stuff. His surname is difficult to spell and impossible to pronounce without injury, which will probably curse his career to obscurity. Crow is currently voiced by newbie Brain Bill Corbett (autograph not currently available).
---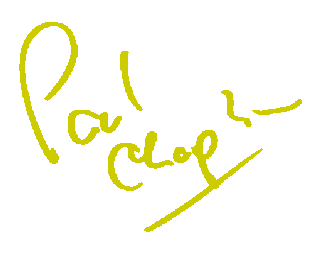 Paul Chaplin
A writer and the Brain behind Pitch, Sandy (Pearl's boyfriend) and other occasional characters. A gun-toting John Bircher, Paul keeps the comic edge of the writing team sharp through a campaign of terror and intimidation. Or maybe that was just a weird dream I had.
---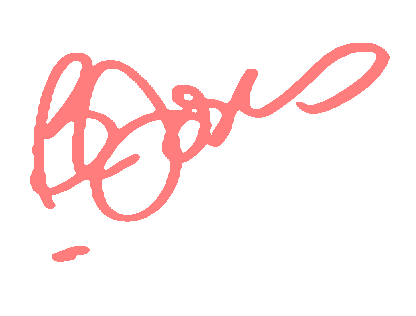 Bridgett Jones
A writer and the Brain behind the lovely Nuveena, the disturbing Mr. B Natural, and other occasional characters. Rumor has it she is in fact married to Mike Nelson, but this is just something I made up.
---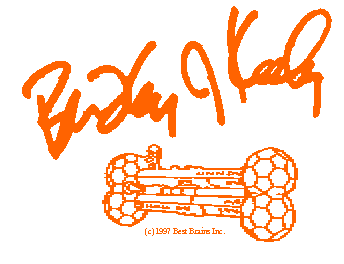 The Great Bradley J. Keely
Editor, Technical Supervisor and all-around good guy. He does everything that MaryJo (see below) doesn't do.
---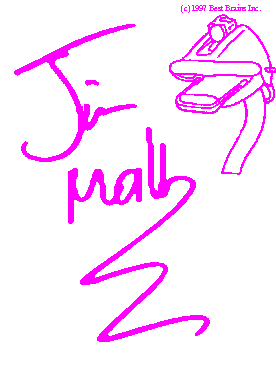 Jim Mallon
Jim "Blood Fist" Mallon is "The Man" at Best Brains. He is also a giant purple female robot named Gypsy. Such contrasts, conflicts and contradictions abound in the enigmatic character of Jim Mallon, President, Producer and Performer.
---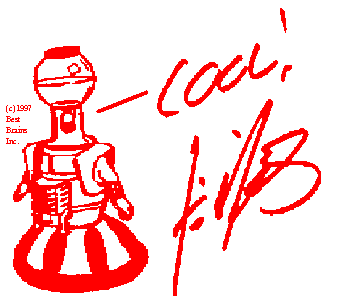 Kevin Murphy
Second string replacement for the voice of the beloved Tom Servo, Kevin bitterly labors under the unrelenting scorn of fans who cannot accept the loss of Josh Weinstein. He also plays some kind of monkey or something, and probably some other occasional characters. He probably writes, too. I think they all write. If you call that writing.
---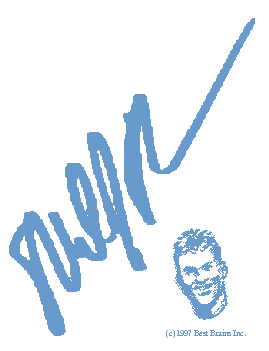 Mike Nelson
Although credited as the "head writer" of MST3K, very little is known about Mr. Michael Nelson. He is rarely seen at Best Brains Studios and doesn't share his home phone number or address with his co-workers. He IS however a world-renouned fragmaster of DOOM.
---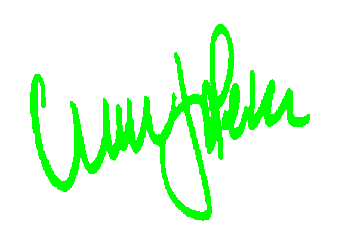 Mary Jo Pehl
The Brain behind principal character Pearl Forrester, and a writer. Ok, let's face it, MaryJo is THE writer. In fact, she is the only Brain willing to lift a finger when deadline time rolls around. Entire episodes have been written singlehandedly by MaryJo, while the rest of the so-called "writing team" languishes in the local Perkins restaurant.
---
Sadly Absent Autographs:
Jef "Scrotar" Maynard
TV's Frank Conniff
Joel Hodgson
Josh Weinstein
Bill "Brain Guy" Corbett
Jeff Stonehouse
Any and all other Brains, past and present
---
Mystery Science Theater 3000, Crow T. Robot, Tom Servo, Gypsy and other characters and situations portrayed in the program are the copyrighted property of Best Brains Inc. Mike Nelson may or may not actually own his own name. I suppose that depends on how much of an ownership interest he has in Best Brains Inc.
This page is intended as "fan" or "tribute" page and is not intended as a substitute for the program, any official web pages or any official merchandise or event. This page is not created or operated for profit of any kind other than the prestige of having created a really cool MST3K page.
---

MST3K/MoAM? Main Page ...

Home ...
Copyright © 1997 Michael Anthony Kepler