! -//W3C//DTD HTML 4.0 Transitional//EN PUBLIC HTML>

The GIF animation above is derived from frames from an early 1996 promotional AVI for SBMD. The AVI featured music by Man or Astroman?, but the finished game, sadly, does not. Nonetheless, there is lots of great music in the SBMD soundtrack, including tracks by Southern Culture on the Skids, The Reverend Horton Heat, and The Surfaris, just to name a few.
Find This Box...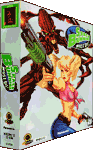 ...and buy it immediately!
---
Find This Book...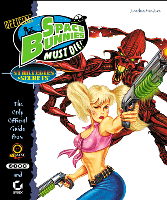 ...and buy it immediately!
---
SBMD was created by:


Click here for their main page.
Click here for their Space Bunnies Must Die! page.
---
SBMD is published by:


Click here for their main page.
Click here for their www.spacebunnies.com page.
---
SBMD is distributed by:

---
SBMD original soundtrack CD available from:

---
SBMD Official Strategy Guide by Jonathan Mendoza, published by:

---
Here's the setup: You are Allison Huxter, a truckstop waitress who wants to be a rodeo queen and has a natural talent for dancing. Your sister, Jocelyn, is an aspiring country singer who gets abducted by alien Space Bunnies during the opening movie clip. Your mission is to infiltrate the underground lair of the Space Bunnies and rescue her.
In addition to your stolen Space Bunny guns and an array of specialized ammo, your greatest weapons are your mesmerising dance moves, which leave even the nastiest Space Bunnies temporarily defenseless. The dance songs and dance moves are different for each level.
What I like most about this game is the way that humor and music are infused into the whole design and gameplay. I also like that each level has many unique elements, with multiple objectives. This isn't just a kill everything while you dash to the exit kind of game, nor is it just an object quest. You may have to think and work a little harder to get through this game, but you get paid back in fun and good music every step of the way. In addition to the great classic and "indie" music in SBMD, there are also original songs sung by Jocelyn in each level and a greater variety of really good original incidental music than most games have.
This Space Bunnies Must Die page is part of Astro Science Reverb 3000 because of the obvious, but sadly broken, connection to Man or Astro-man?, and because of the perhaps less obvious similarities to Mystery Science Theater 3000. This game uses and abuses campy sci-fi movie cliches in the same "good natured brawling" spirit as MST3K.
This is just the beginning of my SBMD page. I will be adding lots of other neat stuff, as time allows. In the meantime you must go out and buy "Space Bunnies Must Die!" now! It is the coolest, funnest , and funniest game ever! And while you're at it, buy the original soundtrack CD (on Hip-O records), and the official strategy guide (Sybex books).
---



---
"Space Bunnies Must Die!" is a trademark of Jinx and/or Ripcord Games and/or Panasonic. All material derived from the game "Space Bunnies Must Die!" and related marketing materials is Copyright © 1998 by Jinx and/or Ripcord Games and/or Panasonic. Everything else is Copyright © 1999 by Michael Anthony Kepler