Man or... Astro-man?: GhostBunnies from Space
---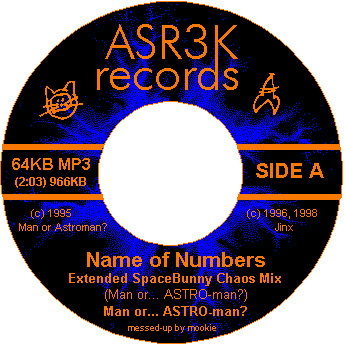 Click here to download numbers.mp3 (988679 Bytes)
"Name of Numbers", perhaps my favorite MOA? tune, was first released on the 7" single "Mission Into Chaos", the posthumous soundtrack to an obscure SciFi/Spy movie of the same title which may or may not actually exist. It seems natural then, that it then became the soundtrack for a promotional clip for a SciFi/Comedy/Action computer game, "Space Bunnies Must Die!", that very nearly never came into existence. Certainly, it was far from complete in 1996 when the promo AVI showed up on a PCGames CD, and during the rocky course of it's completion and release, the "Music By Man or Astroman?" announced in the AVI failed to appear in the final version.
This extended mix of "Name of Numbers" incorporates the exerpt used in the original SBMD promo AVI, complete with the sound effects of battling bunnies and some theremin-like overdubs. It also incorporates the breif chreshendos that open and close the original "Mission Into Chaos" single, and a few sound effects from the the finished version of "Space Bunnies Must Die!", my favorite computer game.
---
Click here to download Screenplay/Opening Theme (SG1.mp3 678130 Bytes)
Click here to download "Play me to the desk" (SG2.mp3 88175 Bytes)
Click here to download Closing Theme (SG3.mp3 350039 Bytes)
"Space Ghost Coast To Coast", together with "Cartoon Planet", are collectively my second favorite TV show on the air, my first love being, of course, "Mystery Science Theater 3000". When I heard that my favorite band, Man or Astro-man? of course, was doing new music for SGC2C, I was naturally thrilled. MOA? fans such as myself have been disappointed since then by how seldom MOA? music has been actually used on the show. Reportedly, MOA? recorded a number of cues in addition to new Opening and Closing Themes, but the brief "Play me to the desk" cue appearing here is the only one I have heard on the show that I am fairly certain is by MOA?.
So, here for fans of both the band and the show, are the very seldom heard MOA? tracks for SGC2C. They are recorded straight off of the TV, and incorporate additional dialog and sound effects from the show itself. The whole little suite was edited to simulate a complete, but very breif, episode of SGC2C. Hopefully, someday Cartoon Network or MOA? will release these recordings, and perhaps more made for the show, on an official record/CD.
---
WARNING: different browsers deal with download links differently. You may have to right-click (or the equivalent) and pull down a menu to select "save as" (or the equivalent). Otherwise, you might just get a bunch crap thrown at you if the browser tries to "view" the binary file.
---
Back to ASR3K Records Main Page
---
These mixes and samples exist as collage (artistic fair use) and as tribute (editorial fair use) and are not a substitute for an official MOA, Jinx or GhostPlanet Industries (Cartoon Network) recording, program, etc. I do not believe that anything on my website exceeds the fair use provisions of the U.S. Copyright law. The copyright notices on this page, and others on this site, apply to the original works used as source material. Such notices do not acknowledge any limitation on artistic or editorial fair use. This site is not created or operated for profit of any kind other than the prestige of having created a really cool ASR3K page.
---



---
Copyright © 1999 Michael Kepler, except where otherwise noted.