The MST3K planetoid logo, and possibly other artwork in this collection of artifacts, is owned, copyrighted and trademarked by Best Brains Inc. The SCI-FI Channel planet logo is owned by the SCI-FI Channel and whoever owns them, probably Jane Fonda's husband, Ted something. USA Networks, actually, I think. The design and appearance of the Milk Bone is probably trademarked or something by whomever the heck makes those things. Maybe someone even thinks the likeness of the surface of a typical waffle is their exclusive intellectual property. It gets kind of hard to keep track of all this. Thanks and apologies to anyone and everyone who may or may not own any portion of what is found here. This is all presented in tribute (editorial license), as collage (artistic license) and as a historical record (academic license?). Which reminds me, I need to get my artistic license renewed.
---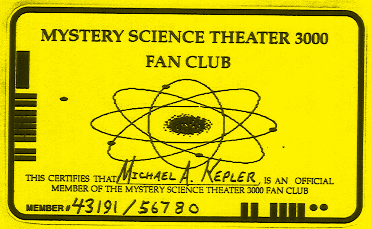 My Info Club Membership Card
Why two membership numbers? Well.. I first registered and recieved the smaller number in 1994 when I went on a Best Brains studio tour several months before the first Conventio-Con. Then about two years ago I moved and called Julie Walker Texas Ranger InfoClub Poobah to get my address changed on the newsletter mailing list. Somehow this resulted in a new number being issued, the larger one. In attempts to clear up the matter, further miscommunication resulted in the larger number being assigned to the name "Hector Guzman" at my address. This is a name I have used from time to time in jest, so I can only guess that I must have mentioned it to Ms. Walker at some point. So now I am two members with two names and two numbers and I get two newsletters. Not a bad arrangement, actually, and I think I'll leave things just as they are.
---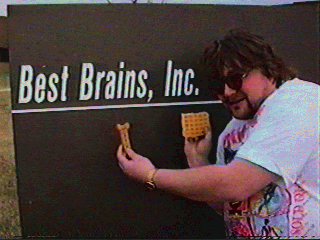 Who's that fat guy?
It's me! I didn't have a still camera when I did the studio tour in 1994 and camcorders weren't allowed. So, I went back later and shot some video of myself in front of the BBI sign, with my beloved mementos from the tour. This picture is a snap from that video.
---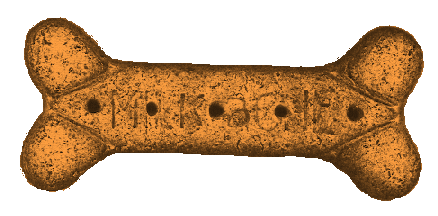 My Genuine Basil Rathbone #2
My first Genuine Basil Rathbone was given to me by Toolmaster Jeff Maynard on my first Best Brains studio tour. It was subsequently and quite sadly lost during a move, along with the Genuine MST3K Waffles I had also aquired on the same tour. Then, much to my delight, I was sort of "given" a replacement Basil Rathbone from the original box during a studio tour I went on as part of the second Conventio-Con. May I extend my heartfelt thanks to the person, who shall for her own protection remain unnamed, who sort of "gave" me the Basil Rathbone. She sort of got into trouble with one of the Brains over this incident. Although I have incriminating video, I will keep it to myself.
UPDATE: While looking for other artifacts recently I found my original Basil Rathbone and my original MST3K waffle! So now I have two Rathbones! Unfortunately, the waffle had broken into two large pieces and alot of little crumbs.
---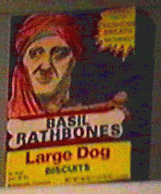 The Box of Basil Rathbones
This snap of the original prop is from my more recent studio tour video. What is a Basil Rathbone, you ask? Maybe I'll explain later, after I have checked the episode guide for the particulars. For now let me just suggest that you should become more familiar with the earlier episodes of MST3K.
---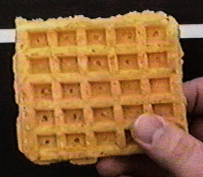 My Genuine MST3K As-Seen-On-TV Waffle
---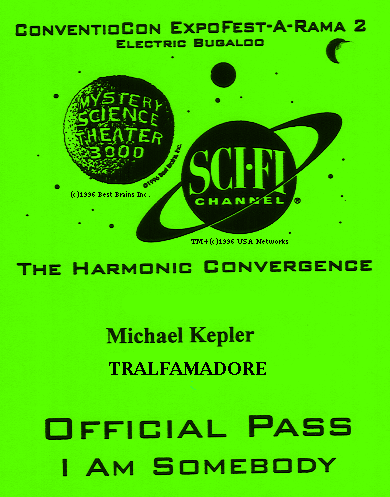 My Conventio-Con Pass
---
The background image is a cropped and colorized scan of a photocopy of a frozen waffle (ok, by the time I got it to the copier at work, it was pretty well a thawed waffle). I am shocked at how few people have thus far recognized this background without prompting. What is the significance of waffles in this context? Again, the answers are all in past episodes of MST3K.
---





Copyright © 1997 Michael Anthony Kepler